Datuk Nicol David as Fitness Concept Brand Ambassador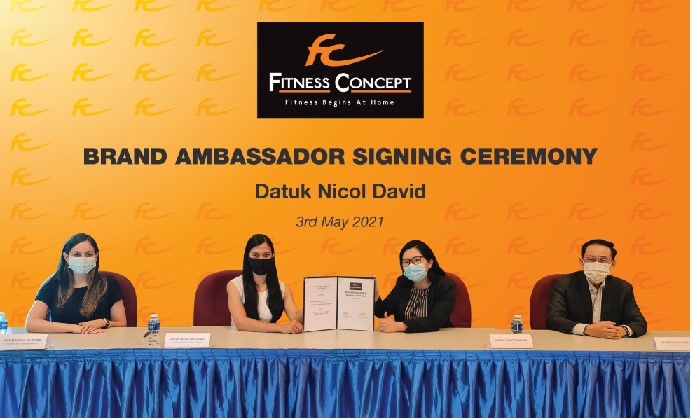 Fitness Concept proudly announces the official appointment of Fitness Concept Brand Ambassador, Datuk Nicol David. Fitness Concept (a member of the Transmark Group of Companies) is confident to build a strong branding and to inspire more people to lead a healthy lifestyle by appointing Datuk Nicol David as Fitness Concept Brand Ambassador.
Datuk Nicol David, the queen of glass court has been named the World Games' Greatest Athlete of All Time this year after tallying a whopping 318,943 votes in an online poll to beat out 23 other candidates. The 37-year-old Penangite, also the eight-time squash world champion, held on to a record nine-year reign as the world's number one. Nicol retired from competitive play in 2019 but she is far from leaving the court behind besides working more closely with up-and-coming national players, she is also occupied with setting up the Nicole David Foundation to engage with the younger generation. Her foundation aims to make sports more accessible to children and increase participation of girls through empowerment.
During the signing ceremony, Fitness Concept CEO, Miss Au Yong adds "We are happy to have Datuk Nicol David as our ambassador as she is a popular icon among Malaysians and most importantly, she is a role model to look up to as she presents a fit, healthy and confident image which able to encourage public to start their fitness journey at home by just doing simple exercises such as walking on treadmill, skipping ropes, lifting dumbbells etc. Even though the Covid vaccination has started to roll out, we have to continue to remind the public to keep themselves fit and healthy in order to boost their immune system and improve longevity for themselves and their loved ones as the saying goes Health is the Best Investment in Life!"
The appointment of Datuk Nicol David as Fitness Concept Brand Ambassador will help strengthen the brand image of Fitness Concept Specialist Chain Store as the Malaysia's No. 1 preferred Fitness Equipment Store. Fitness Concept is the sole distributor for ICON Health & Fitness (world's largest fitness equipment manufacturer for brands like NordicTrack, Proform, IFIT, Le Tour De France and many more) and also others world renowned brands like Reebok, Schwinn, Sole, Inspire Fitness, FFittech, Cybex, Body Solid to name a few.